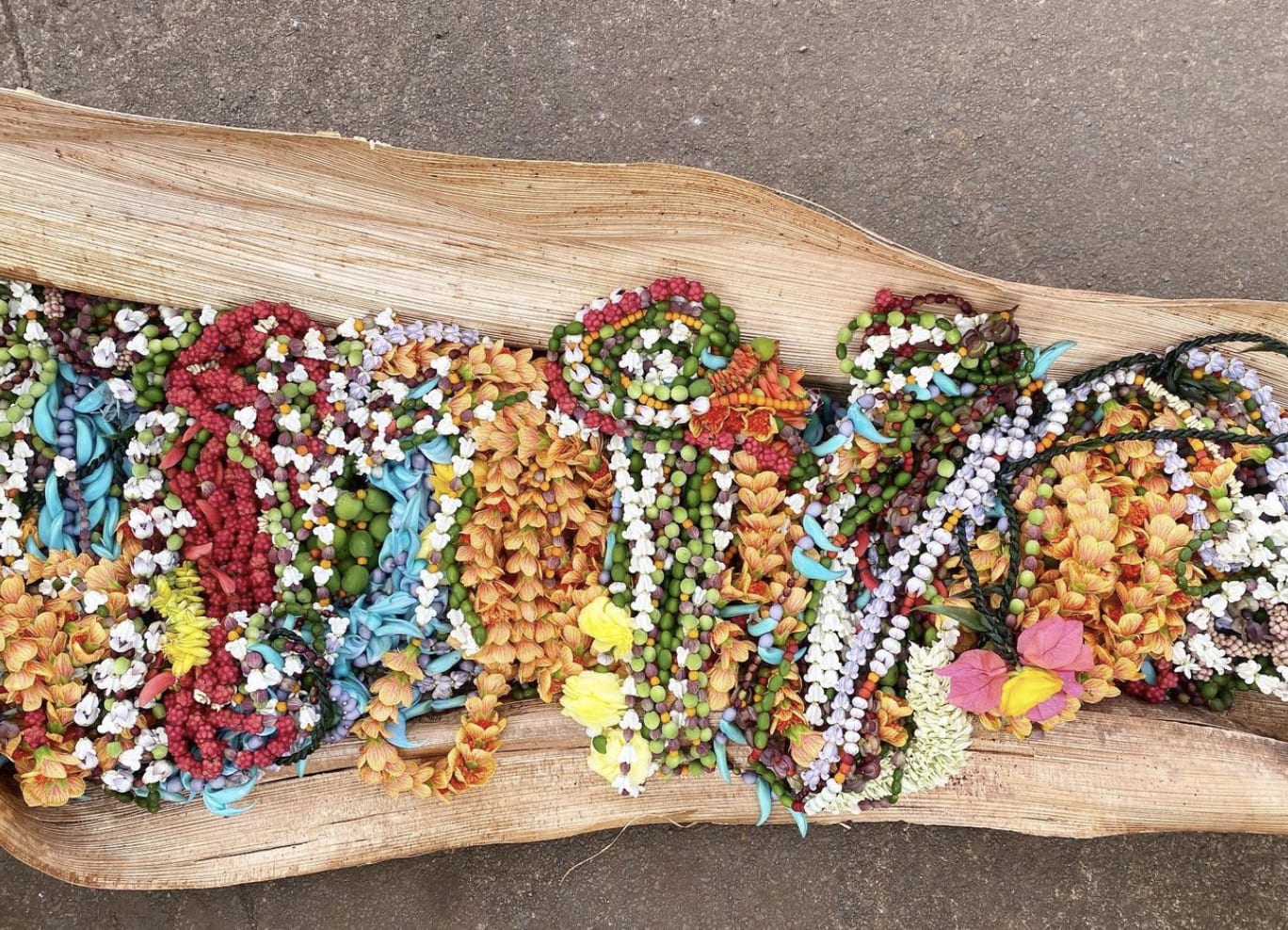 If there's one thing you can always expect when being on Maui, it's that at some point, you'll be adorned with a beautiful fresh lei. Whether made of local flowers, native feathers, shells, or leaves, the stunning and fragrant garlands are a signature of the Hawaiian Islands.
Lauren Shearer knows a thing or two about the unique art of lei-making. Owner of Flora & Fauna, a quaint shop in Hali'imaile, she spends her days crafting innovative and unique lei that challenge traditional floral design.
The idea behind Flora and Fauna arose out of a lifetime passion and appreciation for lei-making. Being born and raised in Maui, Lauren spent her whole childhood learning to make lei and being exposed to Hawaii's floral background and rich culture.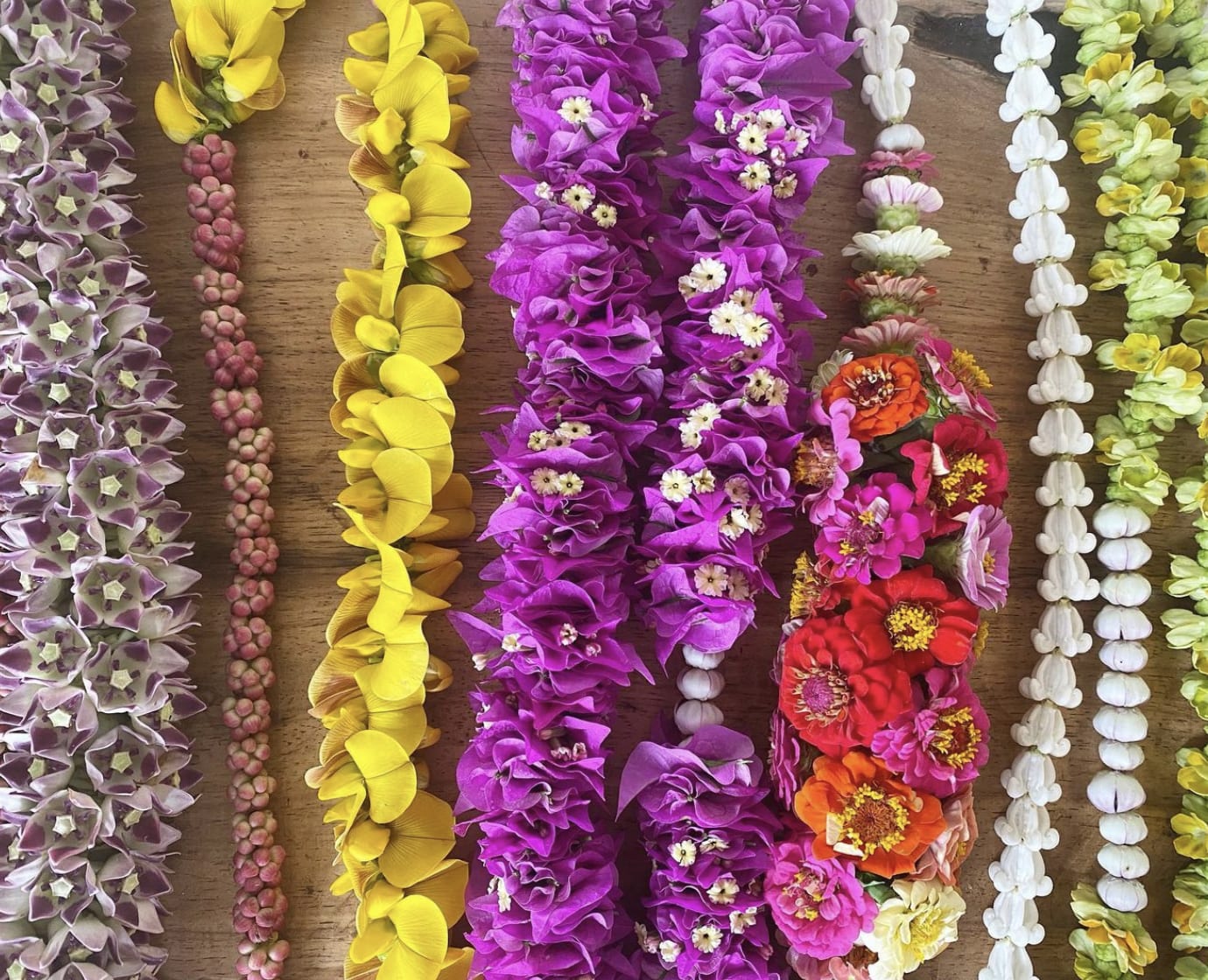 She began experimenting in her early years and hasn't stopped since realizing that there is an abundance of flowers, plants, and sometimes even animals throughout our surroundings that could be used to make leis. Her methods and artistic flavor honor the craft's history while also pushing outside the comfort zone of what a "typical lei" is.
Lauren seeks and evokes beauty in everything she encounters, perceiving things in nature more than their aesthetic value. When it comes to her fresh flower leis, "perfectly put together", conventional, and traditional aren't exactly words that immediately come to mind. Her creativeness has driven her to pioneer a more unique path, incorporating centipedes and even honeybees in her leis.
Though she sometimes uses materials that are not native, she puts a heavy emphasis on sourcing from local Maui vendors for her materials and using native species. But even species like kiawe, agapanthus, juniper, and pineapple can burst with excellent pigment and texture, as Lauren's creations show.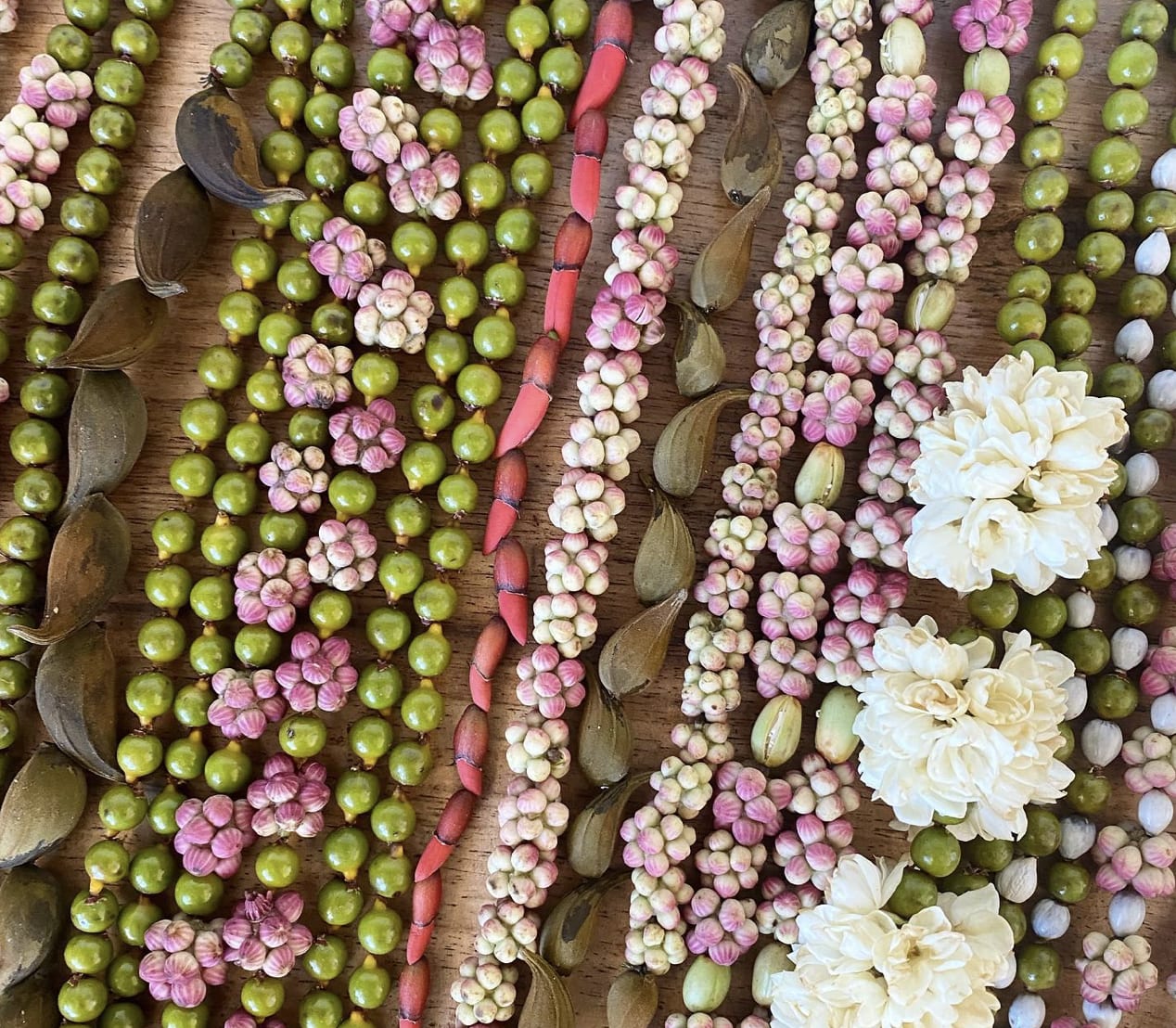 Sometimes, she'll mix native flowers like canary-yellow māmane with small, red petals from 'iliahi, or sandalwood, and even invasive species like fountain grass for wispy, purple flourishes. Her vibrant aesthetic, and unconventional methods, have quickly established her as one of Hawaii's most famous floral artists.
Although the idea of lei giving may appear simple, the art of lei crafting has a history as rich as Hawaii's.
Beyond just looking beautiful and smelling amazing, leis held a historical weight to native Hawaiians. Worn typically as adornments for ceremonial or traditional purposes, they were also given to express greetings and affection. Specifically, during the steamship period of 1860, many tourists and foreigners started giving and receiving leis when entering Hawai'i. This created a more popular and mainstream love for leis of all kinds.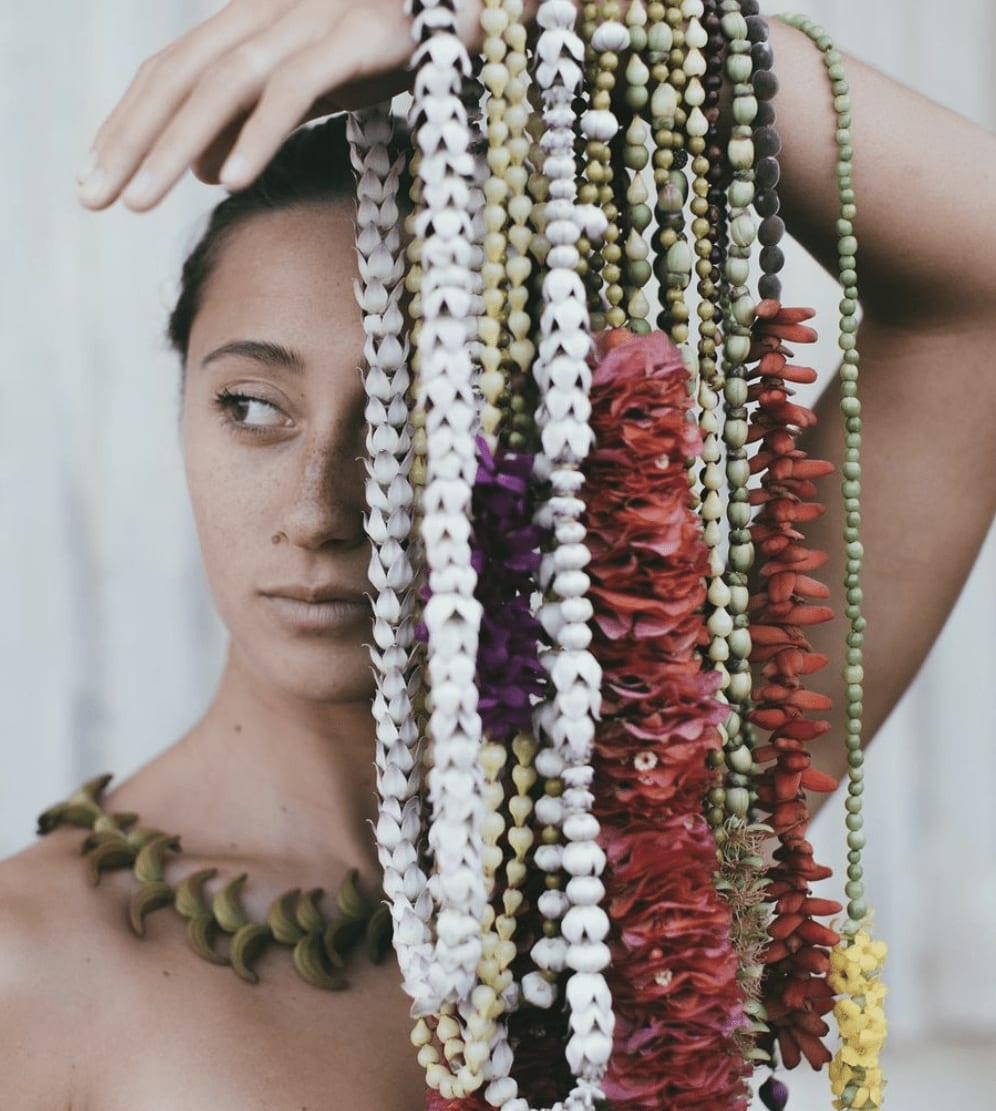 Lei-making is a craft that isn't always taught by the book. Instead, oral knowledge and methods are typically passed down from kūpuna, aunties and uncles, and other practiced Hawaiian artists who have mana'o (wisdom) of the art.
With multiple ways of tying and weaving, different cultural meanings associated with particular plants, and knowing which plants blossom at specific seasons of the year, there is a plethora to learn when honing in the ancient craft. While Lauren's techniques are founded in tradition, she also draws influence from the Japanese concept of wabi-sabi, which embraces imperfection and asymmetrical design.
Today, leis are given and received at many events in Hawai'i, from graduation, birthdays, luaus, weddings, and more. They're also the main attraction of Lei Day, a holiday on the first of May, celebrated statewide with lei-making competitions and plenty of leis given, received, and worn.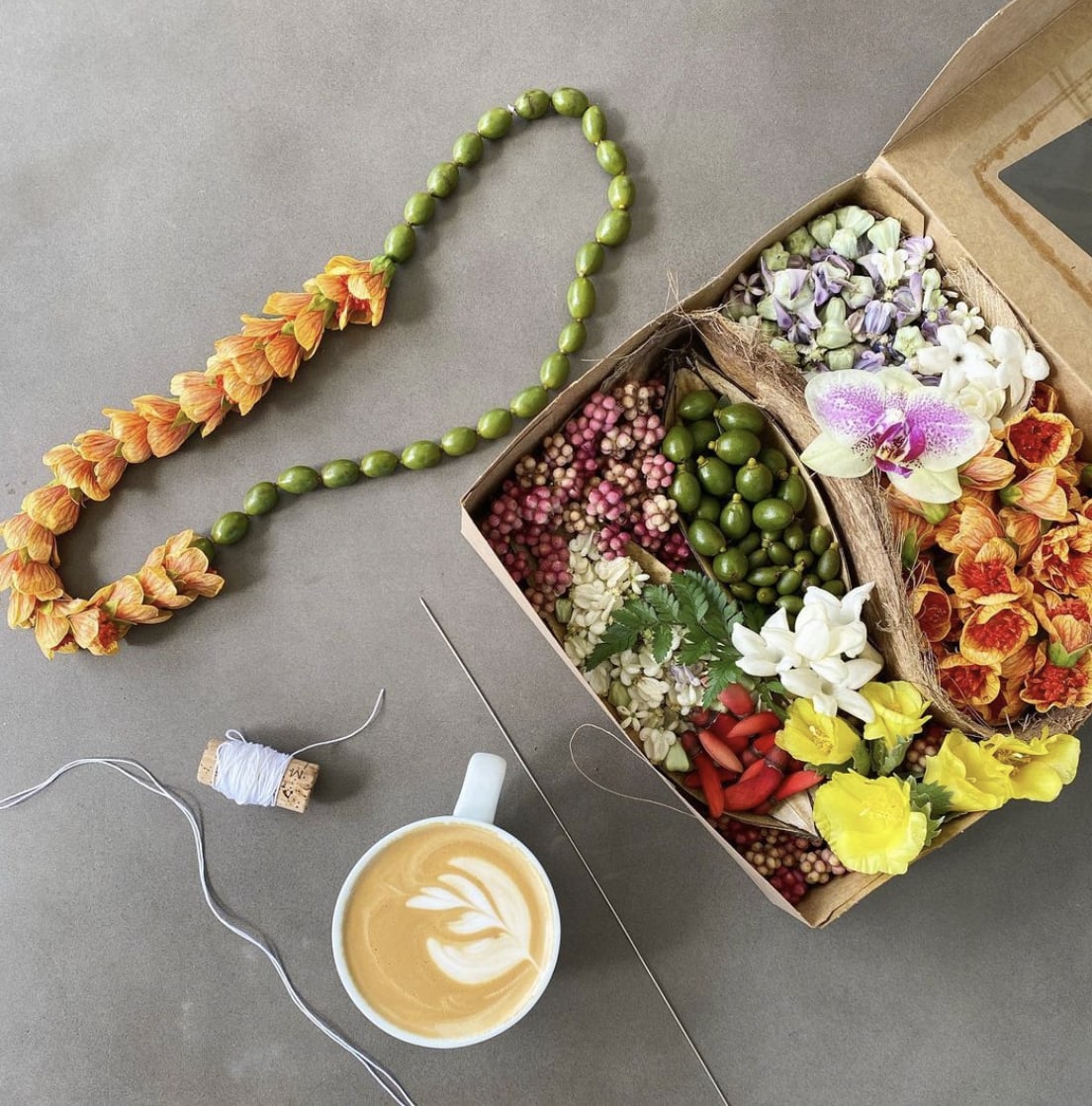 You can bring the tradition of lei making home with you with her lei making kit that includes a metal lei needle, string, and a variety of flowers and dried seeds foraged from Hawai'i.